The Guardian
rated us #1 of the "
Top 10 Places to Stay in Salt Lake City, Utah
" on July 23, 2013
Salt Lake City's Castle Creek Inn looks like a real castle, with fantastic grounds to match PR


Castle Creek Inn
Feel like royalty for a night in Castle Creek Inn. This unique bed and breakfast looks like a real castle, but has the modern comforts of a contemporary hotel. Popular as a romantic getaway or place to tie the knot, the inn has 10 lavish rooms with whirlpool tubs and fireplaces. But what makes the Castle Creek Inn unique is it's private, wonderfully landscaped grounds. Running water and thick groves of trees create seclusion you just won't find downtown. The Castle Creek Inn is in Sandy, about 15 minutes from the city centre.
•
7391 South Creek Road, Sandy, +1 801 567 9437,
castlecreekbb.com
. Doubles from $139
University Guest House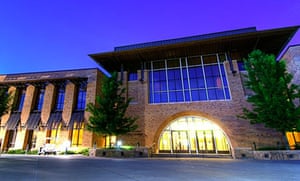 One of Salt Lake City's greatest strengths is its proximity to the great outdoors. The Wasatch mountains rise directly above the east side of the city. The University of Utah straddles the boundary between city and mountains. The University Guest House couldn't be in a better location: it has hiking trails such as the
Bonneville Shoreline Trail
right on its doorstep, but downtown is a short walk in the opposite direction. The hotel's elevated perch in the foothills offers spectacular views over the city. The modern building is on the university campus next to the
Fort Douglas grounds
, a National Historic Landmark. Rooms are spacious, contemporary and immaculately kept. The staff are warm and unpretentious. Ask for a room on the building's west side to enjoy the view.
•
110 South Fort Douglas Boulevard, +1 888 416 4075,
universityguesthouse.com
. Doubles from $109
Anniversary Inn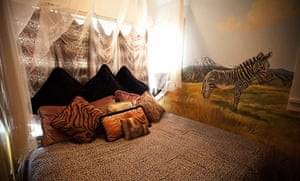 If you're looking for lodging with character, look no further. Each room has a different theme, from Enchanted Forest to Phantom of the Opera. Tree trunks double as bedposts, bookcases open into bathroom doors, and bath towels are stacked neatly atop Egyptian pharaoh statues. The creatively decorated suites maximise the unique spaces in this twisting, turning, historic structure. The mansion was built in 1889 by Emmanuel Kahn, a German emigrant and successful Salt Lake City merchant. The inn is just east of downtown in the historic Avenues District, near sights including Temple Square.
•
678 East South Temple, +1 800 324 4152,
anniversaryinn.com/south-temple
. Doubles from $119
Hotel Monaco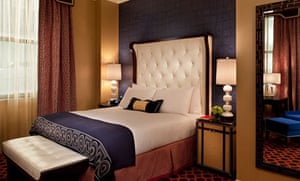 For a taste of Salt Lake City's quickly developing urban centre, Hotel Monaco is a classy place to start. This upscale, though not prohibitively expensive, hotel occupies a renovated bank building in the heart of downtown. In contrast to its classic exterior, the hotel's modern interior is awash with colour and tasteful design. Boldly decorated suites exude luxury without appearing stuffy and high ceilings give rooms a spacious feel. Bambara, the hotel's restaurant, was recently named the city best by Salt Lake Magazine. Dishes such as
ahi tartare
(raw tuna) with quinoa, avocado, and black olive oil crème fraîche mirror the hotel's fresh appeal.
•
15 West 200 South, +1 800 805 1801,
monaco-saltlakecity.com
. Doubles from $109
Wildflowers Bed and Breakfast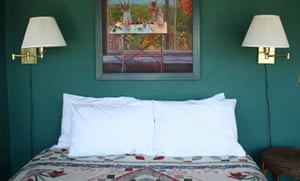 Sugarhouse is one of Salt Lake City's oldest and most vibrant neighbourhoods. And Wildflowers Bed and Breakfast is a fully renovated Victorian-era home built in 1891. The house was built by Byron Cummings, who was the first dean of the School of Arts and Sciences at the University of Utah. As well as a tasteful interior, the B&B has a colour-splashed wildflower garden filled with larkspur, columbine, foxglove, wild geraniums, lupins, and meadow rue. Over nearly 20 years owners Cill Sparks and Jeri Parker have developed a reputation for hospitality and enjoy a loyal following.
•
936 East 1700 South, +1 800 569 0009,
wildflowersbb.com
. Doubles from $90
Peery Hotel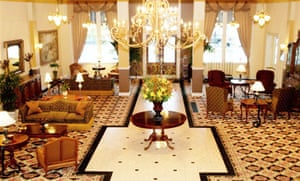 Like a classic convertible that only gets cooler with age, the Peery Hotel is Salt Lake City's vintage masterpiece. The hotel hasn't been reworked like many of the city's older establishments, and retains its turn-of-the-century charm. And, as the staff openly admit, the hotel has retained a few of its guests over the years. That's right: the building is rumoured to be haunted by guests who never checked out. So, if you find a little paranormal activity intriguing, the Peery is just your place. Like any good classic, it is well taken care of by genuinely friendly and caring staff. New memory foam beds with shimmering white sheets give the rooms a crisp, refreshed feel.
•
110 West Broadway, +1 801 521 4300,
peeryhotel.com
. Doubles from $129
The Inn at Solitude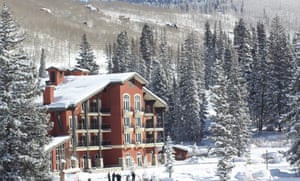 In the competitive world of Salt Lake City ski resorts, Solitude has decided to stay small when everyone else has grown big. If you find that philosophy refreshing, the Inn at Solitude is the perfect experience. It is part of Solitude's village base area in the upper reaches of Big Cottonwood Canyon, about a 30-minute drive from downtown. If you're looking to stay in the mountains, with hiking and biking trails just steps away, you can't get any closer than this. Think romantic getaway, or family friendly vacation, but don't expect to find a lively bar scene.
•
12000 E Big Cottonwood Canyon Road, +1 801 534 1400,
innatsolitude.com
. Doubles from $149
Armstrong Mansion Bed and Breakfast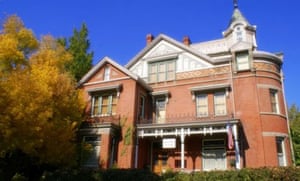 History buffs will be taken by this restored historic house. The Armstrong Mansion was constructed in 1893 by the two-term Mayor of Salt Lake City Francis Armstrong and his wife Isabel. "Home is my heaven on earth. Heaven will be home and family … or it won't be heaven," Armstrong said. The Queen Anne-style home was one of the first three residences in Salt Lake City to have running water. The B&B attracts celebrating couples and guests looking for an authentic historic experience. The 12 rooms are themed for a month of the year. The February Room, once the Armstrongs' master suite, is the most- requested, and has a spiral staircase leading to a Jacuzzi in the turret.
•
667 East 100 South, +1 800 708 1333,
armstrongmansion.com
. Doubles from $99
The Cliff Lodge at Snowbird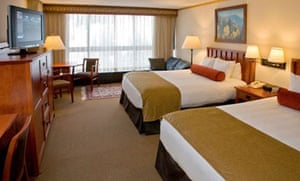 The Cliff Lodge helped put Salt Lake City on the map as an outdoor mecca in 1988 when it hosted the first Rock Climbing World Cup to be held in the US. The climbing holds have been removed, but the Cliff Lodge remains an impressive landmark, with its 11-storey- high open lobby and stunning rooftop pool. Located near the top of Little Cottonwood Canyon, about 30 mintues by car from downtown, the Cliff Lodge is surrounded by some of the most impressive mountains in Utah. Massive glass panel windows dominate the lodge's south-facing walls that look out on to Snowbird's ski slopes. There's also a spa and six restaurants. While prime-time (winter) rates can be expensive, off-season discounts can make the Cliff Lodge good value.
•
9600 Little Cottonwood Canyon Road, +1 800 232 9542,
snowbird.com/lodging
. Doubles from $160
Inn on the Hill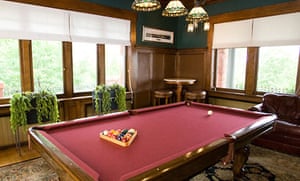 The Inn on the Hill was once the home of one of Utah's powerful elite. The imposing red brick home is on the south slope of Capitol Hill between the Church of Jesus Christ of Latter Day Saints (Mormon) headquarters and the Utah State Capitol. The building was bought and restored by Philip McCarthey, the former publisher of the Salt Lake Tribune, in 2003 and opened as a bed and breakfast the next year. The carefully restored rooms are named after southern Utah's natural wonders, and feel like modern, high-class hotel rooms.
•
225 North State Street, +1 801 328 1466,
inn-on-the-hill.com
. Doubles from $135
Local taxes not included in room rates